Recently Bill did a solo episode away from Mormonism LIVE walking members into the historical analysis of the initial Doctrine of tithing as 10% of one's Surplus or Interest to help believers sense they had an option backed by historical documentation that allowed them to save themselves Thousands of Dollars a year while remaining faithful. After that episode a listener sent Bill and RFM an image of a vintage Church Handbook of Instruction that got their wheels turning and this week's episode seeks to to delve into a historical analysis of how Surplus or Interest became Gross. And YES, You will be disgusted.
Here is the pdf presentation of the outline – https://mormonismlive.org/wp-content/uploads/2023/01/Tithing-Whats-In-A-Word.pdf
The Introduction of Tithing to the Saints and "What is in a word"

D&C 119 VS 1-4 (Given in 1838) – This law was imposed by God as a "Standing Law Forever" and came after the Law of Consecration had failed. Strange that Heavenly Father seems unable to see that this "Standing Law Forever" was about to be anything but consistent and eternal.
Tithing has always meant a tenth.

But a tenth of what? is the crux

Verse 1 – Verily, thus saith the Lord, I require all their surplus property to be put into the hands

It seems the original commandment required ALL Surplus property be given to the Church upon entry into the faith.

Verse 4 – Intimates that once one has entered the faith giving all their surplus property, they there after "shall pay one-tenth of all their interest annually"
INTEREST =

#3 "Regard to private profit"

#4 "Any surplus advantage"

What does Surplus mean =

"What is above and beyond after the necessities are taken care of"

"that which remains when use is satisfied"

What does all this mean

The law of tithing when taken on face value without any manipulation of the words seems to mean "When one enters the Church they are to hand over all Surplus property (any property above and beyond what is a necessity of life), and to then pay 1/10th of their "interest" or "surplus advantage" annually

It also says that this shall be a standing law forever hence meaning it is DOCTRINE and can't be changed (Without additional revelation).

"Settled; established, either by law or by custom, etc.; continually existing; permanent; not temporary"

Since it is the Church who is about to muddy the waters the question is being begged if "Interest" means something other than how the word is literally why wasn't God more clear?

Examples of how it was interpreted in early Church history

JST Genesis 14:39 vs the original verse Genesis 14:20 that Joseph seems to be modifying (between June 1830 and July 1833)
Original – "And blessed be the most high God, which hath delivered thine enemies into thy hand. And he gave him tithes of all."

Joseph Smith's Adaptation – "Wherefore, Abram paid unto him tithes of all that he had, of all the riches which he possessed, which God had given him more than that which he had need."

Joseph seems to be modifying this narrative about Melchizedek so as to have it conform with D&C 119's reasonable interpretation of tithing as 1/10 of surplus. What he adds should be assumed to be altering the meaning otherwise why adapt it at all.

Bishop Partridge "If a man is worth a $1000, the interest on that would be $60, and 1/10 of the interest will of course be $6.— thus you see the plan." Bishop Edward Partridge letter to Newel K. Whitney, July 24, 1838
Bishop Partridge, the first Bishop in the Church is instructing Newel K Whitney (I believe the second bishop in the Church) on the definition of tithing and his responsibility to collect it

Bishop Partridge seems to be interpreting tithing literally based on the verse "shall pay one-tenth of all their interest (increase) annually" and is suggesting that one pay 10% of the interest earned on one's net worth invested at 6%

Lastly Steven Harper seems to agree when he says "Bishop Partridge understood "one tenth of all their interest" annually to mean 10 percent of what Saints would earn in interest if they invested their net worth for a year"

Millennial Star 1847 (Orson Hyde Editor) – "The celestial law requires one-tenth part of all a man's substance which he possesses at the time he comes into the church (See D&C 119:1), and one-tenth part of his annual increase ever after(See D&C 119:4). IF IT REQUIRES ALL MAN CAN EARN TO SUPPORT HIMSELF AND HIS FAMILY, HE IS NOT TITHED AT ALL. The celestial law does not take the mother's and children's bread, neither ought else which they really need for their comfort. The poor that have not of this world's good to spare, but serve and honor God according to the best of their abilities in every other way, shall have a celestial crown in the Eternal Kingdom of our Father." – quotes comes post end of consecration and after law of tithing is revealed
This seems to deeply agree with the very interpretations we laid out by simply being reasonable with the definitions of words
a.) It seems to disagree with paying tithing before feeding your family
b.) It seems to disagree with paying tithing gets you out of poverty
c.) It seems to disagree with paying the tithing of the income you want to have
d.) It seems to disagree with Net Blessings or Gross Blessings
""I pray that every man, woman, and child [who has means] shall pay one tenth of their income as tithing."

When net or gross are used everyone has means with almost no exception.

Lorenzo Snow's words mesh extremely well with that 1847 Millennial Star section.

Though we see for the First Time Income is substituted for Interest. This seems to be the place where later statements define interest as income. This is apparently the place where later leaders claim "interest" to understood as income.

The Modern Church while using the Income for Interest Substitution always withholds "Who has means" every time Snow is requoted in Church Materials, seemingly to deceive members from making a decision based on the full quote. (Ballard hiding Things Audio Bite). This is dishonest, gaslighting, manipulation, and once one grasps the pressure local leaders feel to impose 10% of gross it is also coercion. You can't have one without the other. It's where they get their "understanding"

The Doctrine of Tithing as it was interpreted by Various Church Handbooks of Instruction (And the Official Letter in 1970)
1913 Handbook
1963 handbook
THIS 1963 HANDBOOK IS WHEN TITHING IS EXPLICITLY DEFINED AS ON GROSS INCOME. ONLY TO BE TAKEN BACK OUT THE FOLLOWING HANDBOOK.
1968 handbook
a. Notice the apparent pushback or reconsideration and hence retreat away from being explicit about gross. This is a partial wondering about any legal liability due to their being explicit and contradicting past definitions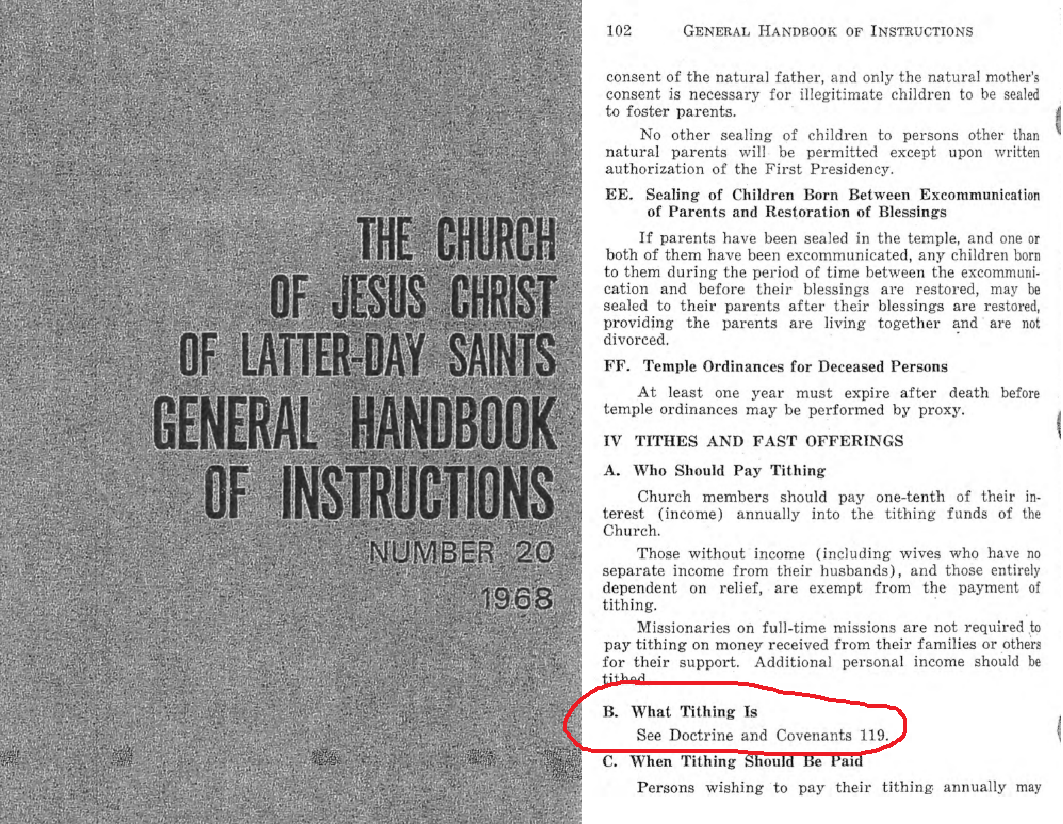 "We feel that every member of the Church should be ENTITLED TO MAKE HIS OWN DECISION as to what he thinks he owes the Lord, and to make payment accordingly." – this is Bullshit.

THE 1899 CONFERENCE TALK BY SNOW SEEMS TO BE THE PLACE THEY PULL FROM TO REDEFINE INTEREST AS INCOME
Conclusion

Knowing what these words mean, knowing how they were interpreted, knowing how they were implemented and carried out imposes that Church members grasp this all meant Interest literally. It meant surplus literally. It meant Increase literally….. And then suddenly somewhere, somehow all of these words are changed to mean "Income" out of thin air.

RFM–IT IS NOTEWORTHY THAT THE CHANGE FROM "INTEREST" TO "INCOME" WAS DONE BY LORENZO SNOW IN THE CONTEXT OF RAISING MORE MONEY TO GET THE CHURCH OUT OF DEBT. PERHAPS THIS WAS THE REASON FOR THE CHANGE; IN ORDER TO RAISE MORE MONEY.

And until an official voice (Church leader or LDS Newsroom) can explain to the Church membership where Surplus or interest earned became Gross or even Net "Income" every Church member should refuse to play by rules that have been made up in order to create the wealthy Church we have today. Why the bait and switch in meaning from Interest meaning surplus to Interest meaning Gross or Net Income?, why the bait and switch in word substitution and vocabulary going from the word Interest to the word income? Why the obfuscation of "Who Has Means", and why not actually follow the very rule they pretend exists and allow "every member of the Church should be ENTITLED TO MAKE HIS OWN DECISION as to what he thinks he owes the Lord, and to make payment accordingly."?
We feel that every member of the Church should be ENTITLED TO MAKE HIS OWN DECISION as to what he thinks he owes the Lord, and to make payment accordingly." – Again bullshit
RESOURCES:
https://www.britannica.com/topic/tithe
https://www.churchofjesuschrist.org/study/scriptures/dc-testament/dc/119?lang=eng

Podcast: Play in new window | Download
Subscribe: RSS